This year marks the 30th anniversary of Productions Multi-Monde. Thirty years of producing social and political films that shed light on difficult subjects and confront the absurdities of the world we live in. We hope you will join us to celebrate these 30 years of involvement in the independent film community and in the movements that inspire us by participating in a series of events this summer and fall that will let you discover or watch again some of the films in our catalog.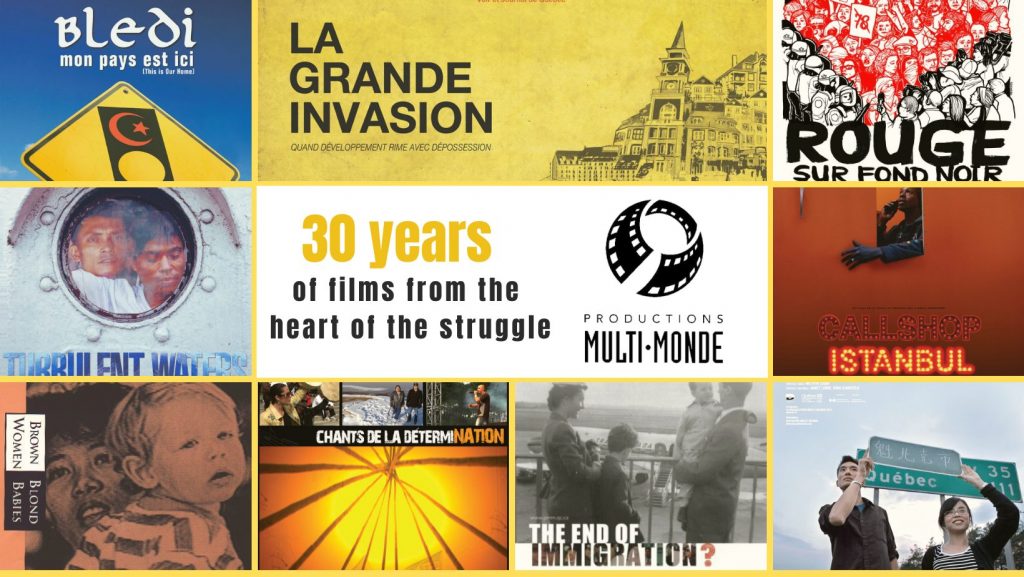 Online screenings
The celebrations marking the 30th anniversary of Multi-monde began with the screening of the film The End of Immigration at the Reel Justice Film Festival (Hamilton) on May 27th. Building on our tradition of working with social movements, the organizers compiled a list of resources related to the issues in the film, and opportunities to get involved in community groups and social justice campaigns. On June 29, there will be a free online screening of Turbulent Waters, followed by a discussion with seafarer and author Louis-Vincent Barthe (Canada) and Edwin Dela Cruz (Philippines). Visit our Facebook page to register for the event.
Awareness and organizing tools
Multi-Monde documentaries that reveal the situation of foreign domestic workers in Canada and around the world are still circulating decades after they were produced. For example, the films Brown Women Blond Babies, Modern Heroes Modern Slaves, and When Strangers Reunite will be screened in British Columbia in June to spark discussion and inform newly arrived workers and their allies about the history and issues of immigration programs and precarious work.
Screenings in the parks this summer
To mark its 30th anniversary, Multi-monde is partnering with Funambules Médias (Cinema under the Stars) to organize a series of screenings in Montreal parks this summer. These screenings will present a selection of social and political docs produced by Multi-monde over the years, which marked the recent history of movements for migrant rights, against racism, extractivism, student fees, and others, in the presence of actors who led those movements and today's activists.
Stay tuned for the exact dates of upcoming screenings on our website or our Facebook page.
A selection at the Korean Film Festival of Canada/Festival du Film Coréen au Canada
This fall, the Korean Film Festival will feature a selection of films on the theme "Women's Perspective in Korean Film: Narratives Beyond Borders" and offers carte blanche to Multi-Monde to present some of the films in our catalog made by women. The program will highlight the work of these women directors, and their contribution to social change through their films.
The festival will be held from September 30 to October 30, 2021.