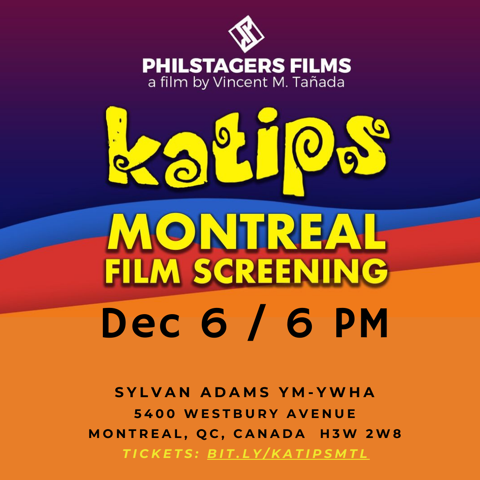 Montreal Premiere of prize-winning Filipino film, KATIPS, featuring struggles of youth during turbulent 1970s. Q&A with the director following the screening. (Filipino original – English subtitles) Get your ticket today for December 6 in-person screening at 6 PM! https://bit.ly/katipsmtl
WHERE?
Sylvan Adams Ym-Ywha
5400 Westbury Avenue, Montreal, QC, H3W 2W8
(Metro Côte Ste-Catherine)
WHEN?
Tuesday, December 6, 2022
6 PM
+++++
This presentation of Diffusion Multi-Monde (Montréal) and the Philippine producer, Philstager Films is part of a North American tour of this multi-award-winning film.
It is an in-person screening followed by Q&A with the director.
Katips: The Movie, is a Filipino period musical drama film written and directed by Vincent M. Tañada. Based on Tañada's 2016 stage musical of the same name, it is about a group of student activists from Quezon City who struggle to protest the imposition of nationwide martial law in the 1970s.
The film stars Jerome Ponce, Vince Tañada, Mon Confiado, Sazchna Laparan and Nicole Laurel Asensio, alongside an ensemble cast that includes Dexter Doria, Lou Veloso, Johnrey Rivas, Adelle Ibarrientos and Joshua Bulot.
The film received 17 FAMAS Award nominations, the most out of any Filipino film in 2021, and won seven, including Best Picture, Best Director (Tañada), Best Actor (Tañada) and Best Supporting Actor (Rivas).
The screening in Montreal is supported by the Centre for Philippine Concerns (CAP-CPC) and Filipino Parents Association of Quebec.
(Filipino Original – English sub-titles)
Tickets: https://bit.ly/katipsmtl