Montreal, March 20, 2023 – Diffusion Multi-Monde is pleased to announce that the film 2012/Dans le cœur/ 2012 Through the Heart co-directed by Rodrigue Jean and Arnaud Valade will be released on March 31 (in French / version française). The feature-length documentary had its world premiere at the Festival du Nouveau Cinéma October 2022, where it received the Audience Choice Award.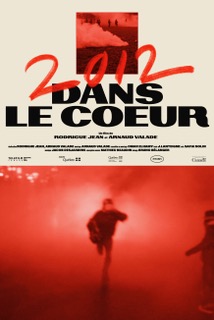 Using footage from both amateur and professional sources, 2012/Dans le cœur immerses us in the intensity of the protests and riots of the 2012 student strike. While the film confronts us with the brutality of the police, it also reminds us of the power of this historic moment that shook the political and media powers that be in Quebec. Accompanied by an uncompromising narration to which Safia Nolin lends her voice, this work rekindles the flame that marked an entire generation and asks the question of what remains, ten years later, of this dazzling spring.
Watch the trailer
Co-directed by Rodrigue Jean (L'acrobate) and Arnaud Valade, 2012/Dans le cœur marks the 10th anniversary of the historic political and social movement that accompanied the 2012 student strike in Quebec. Three events are the focus of the documentary: the demonstration at the Salon du Plan Nord in Montreal, the riot at the Liberal Party Convention in Victoriaville, and the rallies in June and July 2012 in Montreal defying special legislation adopted by the government.
Produced by Transmar Films and Rodrigue Jean and distributed by Diffusion Multi-Monde, 2012/Through the Heart will be released on March 31, 2023.
Press material (en français) available here
Media contacts:
Mélanie Mingotaud | 514.582.5272 | melanie@mingo2.ca 
Zoé Verdier | 514.617.3472 | zoe@mingo2.ca
Arnaud Valade is available for interviews.

Viewing link available upon request.