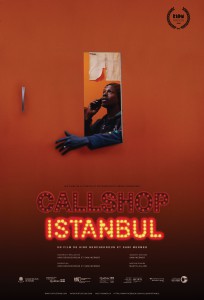 March 15, 2016 — We are pleased to announce that Callshop Istanbul, a feature-length documentary film by Hind Benchekroun and Sami Mermer, has been selected in Official Competition at the 2016 edition of the Hot Docs documentary festival!
Istanbul, at the crossroads between Europe and Asia, has always been a place of passage for merchants and travelers worldwide. Today it represents a gateway to Europe for migrants and refugees from Africa, the Middle East and beyond. Syrian and Iraqi refugees, cosmopolitan youth in search of a better future, those disillusioned by the Arab Spring and clandestinos from sub Saharan Africa all meet in a tiny space teeming with life: the call shop. Situated on virtually every street corner, the call centres provide a life-line for the migrants to their families and homeland.

Hind Benchekroun and Sami Mermer capture intimate conversations and moments of intense emotion that testify to the strength and dignity of these 21st century migrants while providing invaluable insight into the refugee and migrant "crisis" rocking Europe.
Join us at Hot Docs in Toronto from 28 April to 8 May for a 10-day celebration of documentary and meet Hind, Sami and the other filmmakers and their amazing films!
To reserve tickets for Callshop Istanbul : http://boxoffice.hotdocs.ca/WebSales/pages/info.aspx?evtinfo=50898~edeed7b8-5598-4ac6-994a-ca71bc407bc4&
Callshop Istanbul is produced by LES FILMS DE LA TORTUE and distributed by Multi-Monde Distribution.